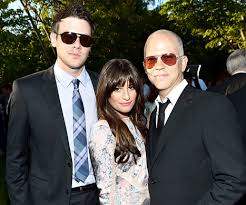 Hoje a tarde foram anunciados os concorrentes ao People´s Choice Awards, prêmio onde o público vota pela internet nos melhores do ano. Entre os indicados aos melhores na TV americana, Glee conseguiu o maior número de indicações:8. The Big Bang Theory e Grey´s Anatomy ficaram em segundo com 5 indicações. Uma novidade é a categoria de Série de Streaming Favorita. Realmente, estes são novos tempos. (Que bom!). O evento acontecerá no dia 8 de Janeiro  e será apresentado pelas estrelas de Two Broke Girls, Kat Dennings e Beth Behrs. A seguir, os candidatos nas principais categorias com minha escolha em vermelho:

Comédia Favorita de TV aberta (nos Estados Unidos)
2 Broke Girls
The Big Bang Theory
Glee
How I Met Your Mother
Modern Family
Ator Favorito de Comédia
Chris Colfer – Glee
Darren Criss – Glee
Jesse Tyler Ferguson – Modern Family
Jim Parsons – The Big bang Theory
Neil Patrick Harris – How I Met your Mother
Atriz Favorita de Comédia
Jane Lynch- Glee
Kaley Cuoco – The Big Bang Theory
Lea Michele – Glee
Melissa McCarthy – Mike and Molly
Zooey Deschanel – The New Girl
Drama Favorito de TV Aberta (nos Estados Unidos)
Chicago Fire
The Good Wife
Grey's Anatomy
Nashville
Parenthood
Ator de Drama Favorito
Jim Caviezel – Person of Interest
Josh Charles – The Good Wife
Kevin Bacon – The Following
Mark Harmon – NCIS
Patrick Dempsey – Grey´s Anatomy
Atriz de Drama Favorita
Julianna Margulies The Good Wife
Mariska Hargitay – Law & Order SVU
Pauley Perrette – NCIS
Sandra Oh – Grey´s Anatomy
Stana Katic – Castle
Ator Favorito de Nova Série
Andy Samberg – Brooklyn Nine-Nine
Jonathan Rhys Meyers – Dracula
Joseph Morgan – The Originals
Michael J. Fox – O Show de Michael J. Fox
Robin Williams – The Crazy Ones
Atriz Favorita de Nova Série
Allison Janney – Mom
Anna Faris – Mom
Ming-Na Wen – Agents of S.H.I.E.L.D.
Rebel Wilson –  Super Fun Night
Sarah Michelle Gellar – The Crazy Ones
Drama de Crime Favorito
Bones
Castle
Criminal Minds
The Mentalist
NCIS
Comédia Favorita de TV a Cabo
Awkward.
Cougar Town
Hot in Cleveland
Melissa & Joey
Psych
Drama favorito de TV a Cabo
Downton Abbey
Pretty Little Liars
Sons of Anarchy
The Walking Dead
White Collar
Série Favorita de Canal a Cabo Premium
Californication
Game of Thrones
Girls
Homeland
True Blood
Atriz favorita de TV a Cabo
Angie Harmon – Rizzoli & Isles
Claire Danes – Homeland
Courteney Cox – Cougar Town
Lucy Hale – Pretty Little Liars
Maggie Smith – Downton Abbey
Anti-Herói de TV Favorito
Dexter Morgan (Dexter)
Jaime Lannister (Game of Thrones)
Norman Bates (Bates Motel)
Rick Grimes (The Walking Dead)
Walter White (Breaking Bad)
Bromance Favorito  de TV
Blaine & Sam (Glee)
Ryan & Esposito (Castle)
Sam, Dean & Castiel (Supernatural)
Sheldon, Leonard, Howard & Raj (The Big Bang Theory)
Ted, Marshall & Barney (How I Met Your Mother)
Amigas Favoritas da TV
Caroline & Max (2 Broke Girls)
Lily & Robin (How I Met Your Mother)
Meredith & Cristina (Grey's Anatomy)
Penny, Bernadette & Amy (The Big Bang Theory)
Rachel & Santana (Glee)
Química Favorita da TV 
Castle & Beckett (Castle)
Damon & Elena (The Vampire Diaries)
Derek & Meredith (Grey's Anatomy)
Emma & Hook (Once Upon A Time)
Kurt & Blaine (Glee)
Série Favorita de Sci-Fi/Fantasia
Beauty and the Beast
Once Upon A Time
Supernatural
The Vampire Diaries
The Walking Dead
Ator Favorito Sci-Fi/Fantasy 
Andrew Lincoln – The Walking Dead
Ian Somerhalder – The Vampire Diaries
Jared Padalecki – Supernatural
Jensen Ackles – Supernatural
Stephen Amell – Arrow
Atriz Favorita Sci-Fi/Fantasia 
Emilia Clarke – Game of Thrones
Ginnifer Goodwin – Once Upon a Time
Kristin Kruek – Beauty and the Beast
Nina Dobrev – The Vampire Diaries
Tatiana Maslany – Orphan Black
Filme de  TV/Minissérie
American Horror Story
Behind the Candelabra
The Bible
Sharknado
The White Queen
Série Favorita de Streaming 
Arrested Development
Between Two Ferns with Zach Galifianakis
House of Cards
Losing It with John Stamos
Orange Is the New Black
Série Favorita da qual Sentimos mais Falta
30 Rock
Breaking Bad
Dexter
Fringe
The Office
Favorita Nova Comédia de TV
Brooklyn Nine-Nine
The Crazy Ones
Dads
The Goldbergs
The Michael J. Fox Show
The Millers
Mom
Sean Saves the World
Super Fun Night
Trophy Wife
Favorito Novo Drama de  TV 
Marvel's Agents of S.H.I.E.L.D.
Betrayal
The Blacklist
Dracula
Hostages
Once Upon a Time in Wonderland
The Originals
Reign
Sleepy Hollow
The Tomorrow People